Z-99 Class DD

Cost - Nationality

60,000 - KM

Required Level

Level 25

7,600 DP

Maximum Displacement

4,000 tons

Refit-able

No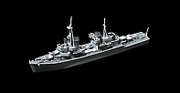 The Z-99 is a
Kriegsmarine
-
DD
ship -- This ship is arguably one of the best Destroyers in the game. This ship was a menace in the 3 months after it was released, destroying almost all other DD's. Many people use this ship and keep it until the BB line.
Recommended Armament
Edit
It is recommended that you use: "Level 36 - Dual 6.75/40 SK L/40 D"