The Brooklyn is a United States Navy Light Cruiser (CL), the Brooklyn is debatably one of the best CL's within the game.. Known for its 5 guns which give it extremely good firepower and great accuracy while still maintaining a good speed and durability.
Brooklyn Class

Nationality-

United States Navy

Required Level-

38

Cost-

385,000

Durability-

10,600 DP

Maximum Displacement-

5,135 Tons

Refit-able-

No

Support Crew Slots-

3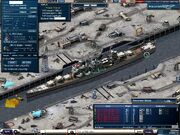 Ad blocker interference detected!
Wikia is a free-to-use site that makes money from advertising. We have a modified experience for viewers using ad blockers

Wikia is not accessible if you've made further modifications. Remove the custom ad blocker rule(s) and the page will load as expected.